Back to posting after several busy days of visiting. 
On day 4 cousin Torsten picked us up in Uppsala and we drove to several stops. First was Lovstabruk which is a town where our ancestors were smiths who had come to Sweden from France long ago.
We next met up with cousin Britt and her husband Stig in Hållnäs where we visited a graveyard with some family graves.   My Aunt Kaaren came to Sweden some years ago and left some of grandmother Elma's ashes at this memorial.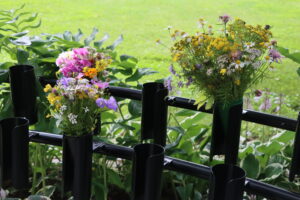 We then stopped at the house where Elma was born and were joined by cousin Jan-Olaf, Britt's brother, and his wife Rosemary. The house has been remodeled some but the oak tree that was there when Elma was a baby is still standing. Just a whole lot bigger.  We then went to Britt and Stig's house for fika and a walk to the Baltic Sea.