From there, we drove north to Leksand.  It was sort of rainy and gray, but we visited a museum where buildings from different parts of Swedish history had been collected.  This included a midsummer pole, although we were of course a month late for the festivities. 
From there, we continued through Dalarna County to Nusnäs, the place where thethe painted horses, called Dalahest or Morahest are made.  Souvenirs were purchased, and of course we needed a picture with the Dalachicken.  Too large for carry-on.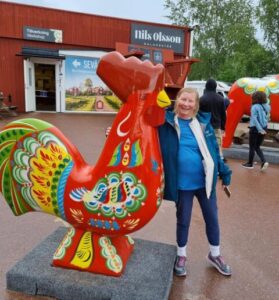 The family visit for today was with Cousin Lisbeth and her family in Mora.  Lisbeth is the daughter of Einar's brother John.   Guess what, we had fika.  Afterwards, we stopped off to meet Kristoffer (Lisbeth's grandson) at work at the fire station. 
Then, because we hadn't eaten enough all day, we drove to Tällberg on the shores of Lake Siljan for an excellent and large dinner.   Once again arrived very late to end the day.  Need more sleep.